Siding Installation in West Jordan and Orem, UT
When you're looking for an experienced siding contractor in West Jordan or Orem, Utah, go with Capitol Exteriors. We're a family-owned siding company that has been in business for 20 years. We have sided hundreds of residential and commercial buildings in and around West Jordan and Orem, and we can make yours look beautiful too.
Here at Capitol Exteriors, our siding installers offer James Hardie board, wood shakes, and vinyl siding.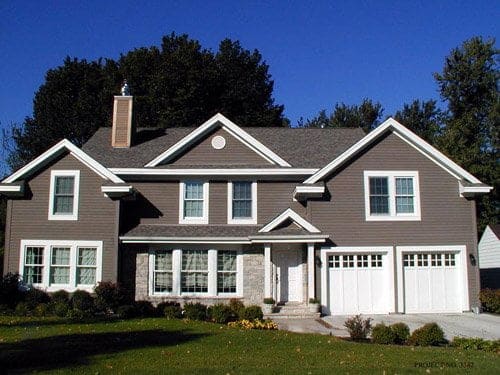 James Hardie
Siding Company
Hardie board has been around for almost 40 years, and our customers love it. This revolutionary siding is a type of cement fiberboard that closely mimics the look of wood.
The best part is how much more durable Hardie board is than wood and how much easier it is to take care of. Hardie board won't rot, warp or shrink. Termites will not infest Hardie board and it's much more fire-resistant than wood. It also holds up well to all kinds of weather — rain, snow, sleet, hail and relentless sunshine.
You can paint or stain Hardie board any color you wish, and it will only add to the protection that this type of siding offers. Plus, when you paint Hardie board, the paint lasts a lot longer without peeling or blistering than it does on traditional wood.
Wood Shakes
in West Jordan
While Hardie board is an amazing wood substitute, many West Jordan and Orem homeowners prefer the real thing, and they go with wood shakes.
The beauty of real wood is unmistakable — the look, the smell and the protection it provides for your home. Wood is, however, an organic material, and as such needs to be maintained to prevent it from rotting, splitting or suffering other types of wear and tear. Our siding company recommends periodically staining and sealing or painting your wood shakes.
Siding Repair
in West Jordan
Despite the fact that Hardie board and wood shakes are excellent, durable siding materials, they may still need repairs from time to time. If a tree or branch falls on your home or another object strikes your siding and breaks it, you'll need to replace that section.
Cracked, warped or rotted siding, or siding infested with bugs, will need to be ripped out and replaced. Holes in siding provide access for bugs, critters, water and more. Rely on Capitol Exteriors for all your siding repair needs, regardless of material.
We're known as the go-to siding contractor in West Jordan. Call us for more information or to book an appointment to learn more about siding installation.
Vinyl Siding Contractor
For those homeowners and business owners looking for a cost-effective, low-maintenance siding solution, Capitol Exteriors offers vinyl. Vinyl siding is popular in West Jordan and Orem due to its low cost and easy upkeep.
Vinyl house siding comes in a wide variety of colors, holds up well in any type of weather, and is easy to repair. It's an economical choice for any Utah homeowner.